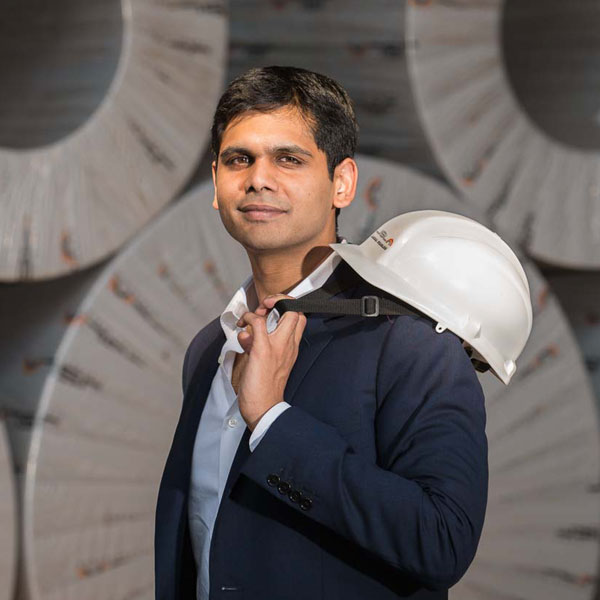 It is true that every business exists because it caters to an outside reason or need. It is equally true that as the business grows, it shapes up like a behemoth that starts working for itself, as a complex web of interlinked organs. And it is precisely at this point in time that a transformation must happen; the transformation of an organisation from a slow-moving elephant to an army of nimble jaguars.
At Jindal Stainless, this inflection point was necessitated by our expansion into an all new territory. The Hisar facility was almost four decades old when work on the newly acquired Jajpur facility began. Eventually, as the new plant started maturing, we realised that the old ways of working were getting too cumbersome. One, the plants were separated by nearly two thousand kilometers. Two, customer requirements were evolving more rapidly than our supply chain. And three, internal coordination and process management were time guzzlers.
There was a dire need to simplify and see the whole supply chain once again, and do it from the lens of the customer.
Customer: The Old and the New
Traditionally, this was how business was conducted, and widely accepted:
The customer places an order – order gets lodged into planning – requisite raw materials are assigned – production happens as per order requirement – order is shipped to warehouse – order is dispatched from warehouse to customer.
Historically, this process worked just right for the company and its customers. But the new-age customer, accustomed to speed and convenience ushered in by e-commerce, wanted much more. Hence, as the quest for speed and efficiencies became greater, we identified two major latent customer needs:
This process led to bulk delivery at the customer's doorstep – something that the new age customer didn't want, as they'd rather have an inventory-light operational model. The new mantra was On-Time, In-Full (OTIF), and in smaller and staggered lots. After all, who wants to stock material on their expensive retail space when the company can do that in their warehouses?
The traditional method also meant that orders were processed in a chronological sequence; which frustrated expectations of customers who wanted vanilla offerings. While the customer could wait for specialised products, they no longer had the patience to stand in queue for standard ones.
The solution to these seemingly simple needs was not simple at all. When the team set out to make a plan to achieve these goals, we realised it was like a stack-crashing game of Jenga. We had to overhaul and tweak a series of dependent functions for the end result to be delivered this way.
Along with the Vector Consulting Group, who were our partners in this journey initially, we sat together to break down each activity into smaller parts and identify the constraints to the fastest solution. Once identified, these constraints had to be demolished in order to establish a high-velocity supply chain, and an agile operational model. This process – of identifying constraints and breaking them down systematically – is the globally acknowledged management practice of the Theory of Constraints, or the ToC.
Started in 2017, the ToC project at Jindal Stainless has turned around the functions of planning, operations, sales, and sourcing into pulsating centres of market sensors.
The ToC-led disruptions, inventions, and successes
The first disruption introduced by ToC was the notion that factories must produce what customers have ordered. Wrong. Factories must anticipate what customers will order, and produce accordingly. Made to Order (MTO), had to be buttressed with Made to Anticipation (MTA).
The insight was simple. With its five decades long experience, Jindal Stainless had enough data to mine and infer trends in consumption. Though this meant a little exposure to risks, it would yield immense benefits to customers. The queue for standard products could altogether disappear if yards were stocked with material that markets were 'anticipated' to pick.
And this is what happened. Experiments with MTA were met with huge success. Customers were delighted to have their lead time reduced by more than one-third in majority of cases. Within a few years, the company had transitioned from zero MTA to nearly 70% MTA-based production. By this time, Jindal Stainless had digitised its operations, which meant that customers had the added convenience of ordering their products online. On the production side, an SAP-based model ensured that replenishment of stock happened in auto mode, based on MTA trends. A Central Sales Planning team was put in place to supervise this coordination. We were finally able to move away from a push-based sales mechanism to a pull-based sales and operations model.
The distribution logistics moved in tandem with these operational changes. The warehouse network was optimised to cater to customers in smaller batches at multiple locations. From 7 warehouses in 6 locations in 2015, we went up to 23 warehouses in 13 locations in 2019. With the support of enhanced logistic operations and by streamlining the warehouse operations, we were able to consolidate our network to 16 warehouses in 10 locations pan-India by 2020. With this, we were able to dispatch material, after clearance, in less than a day. OTIF improved from an average of 80% to over 90% in the last two years. The benefit that flowed into the company was also unprecedented. As lead times dropped, debtor days reduced by 70%, strengthening cash flows and balance sheets.
Buoyed by the success of MTA model in standard coils and sheets, we started replicating it across other product segments. Soon, segments like decorative pipe & tubes, auto, white goods, lift & elevators, hollowware, and railways were also roped in, and similar benefits ensued.
A better planned MTA mechanism also meant that plants could afford big production campaigns, or in laymen terms, fully loaded production. This yielded significant productivity improvement. In the Jajpur plant, we were able to increase our casting sequence from an average of 6 heats per sequence to 7.30 heats per sequence. In Hisar, this grew from 4.6 to 5.6. In both cases, this led to a productivity improvement of over 20%. A complete new virtuous cycle of change had set in, and more benefits were yet to come.
Seamless Succession: From Sourcing to Sales
To manage MTA and small-batch processing of nearly 1000 SKUs was no mean task. Given the anticipatory mode of production, there was a constant need to maintain inventory at a healthy level, and avoid over production. The solution we devised for tracking and triggering action for each SKU was stunning in its simplicity.
Colours came to the rescue. The team came up with a 5-colour coding system which had to be read and followed commonly across plants and yards, online and offline. For a product that blinked Red at the warehouse level, a series of activities were halted automatically by the system, so that the teams knew exactly what NOT to do. The Finished Good requirement was not raised; the Work in Progress was not processed; the grade of heat was not produced; and the raw material required was not ordered.
This paved the way for a new era in our Sourcing function. As lead time reduced, the need to maintain longer inventories came down. Inventory levels at plants, and in transit, could be shortened to free up working capital. The ToC project helped reduce almost 15% worth of inventory in the pipeline, which translated into better availability of LC (Letter of Credit) that Banks could issue on us. This led, yet again, to a healthy cash situation. And as they say in business, cash is the king.
The Sourcing team didn't stop here. They took steeper targets to shorten the supply chain, and started parallel projects to develop domestic substitutes in place of time taking imports. Suppliers' yards were negotiated to be moved closer to our factories. Several raw materials, such as pure Nickel, were switched from 100% imports to 100% domestic sources. Ferro-Nickel was shifted from 70% imports to 70% domestic sources. Sourcing of domestic MS Scrap was raised from ~30% in 2017 to ~70% in 2020. Efforts are afoot even today to further shorten the lead time in supplies.
And the Elephant Danced
In just a couple of years, Jindal Stainless was able to steer its whole supply chain, right from sourcing and planning, to manufacturing and sales, from inside-led to outside-driven. This way of working has not just differentiated us as a highly dynamic, customer-first organisation, but has helped reap massive internal gains.
Having come this far, and knowing that challenging an established way of working is a proven good thing, I now aim to disturb some more status