New Delhi, September 05, 2023: The Bureau of Indian Standards (BIS), the nodal body responsible for setting quality and certification standards for various products in India, has recently introduced three grades—N5, N6, and N7—under the standard IS 15997, meant exclusively for stainless steel used in utensils and kitchenware applications. It is an important decision for the welfare of the consumers as critical issues of health and hygiene are involved in food contact material. Jindal Stainless, India's largest stainless steel company, is among the first to apply for and secure certification for those grades under the enhanced standard.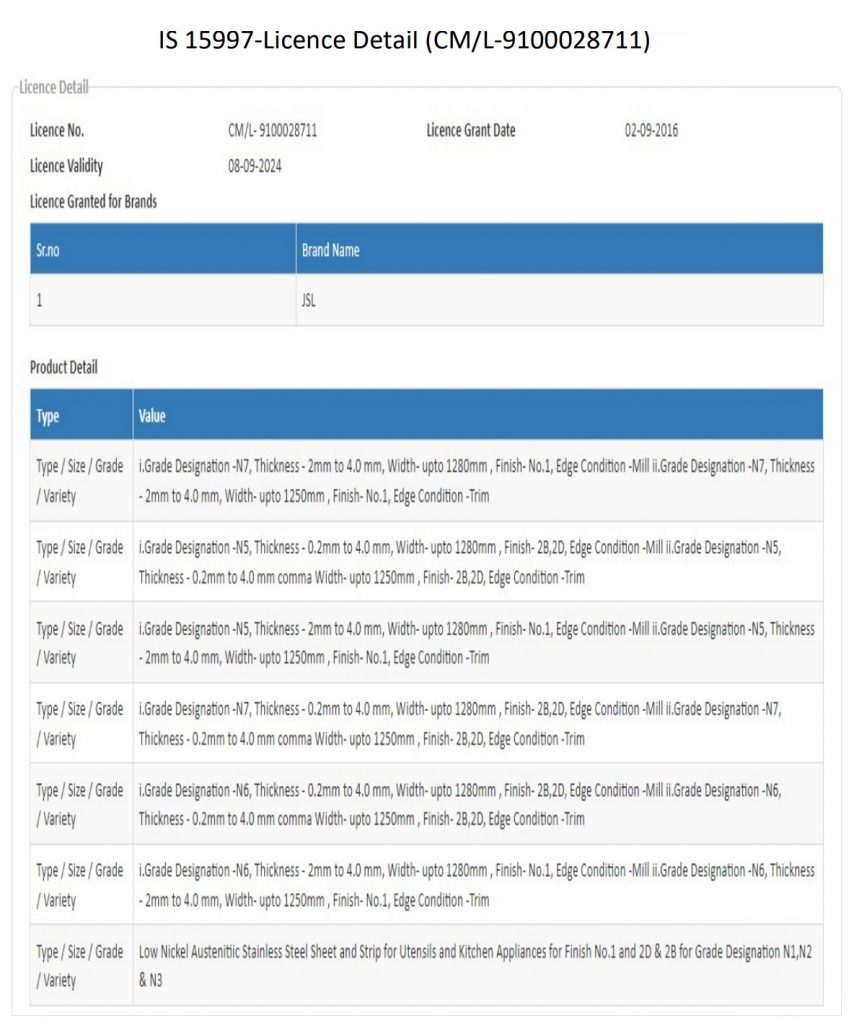 The enhancement in the scope of the standard brings in low Nickel (with Ni <1%) Chromium Manganese grades of stainless steel within the ambit of BIS specifications. Given that a significant portion of the stainless steel used for utensils in India falls within this category, the addition of these three grades to the standard will help to usher in a new quality regime for stainless steel used in utensils and kitchenware. 
Commenting on this development, Managing Director, Jindal Stainless, Mr Abhyuday Jindal, said, "The decision made by the BIS to include these new grades for utensils and kitchenware is a positive step towards safeguarding consumer well-being and promoting public health and hygiene. Jindal Stainless has always been at the forefront of the quality revolution, and we have actively cooperated with the BIS in their endeavors. I request the government to make it mandatory to adhere to the BIS standards for stainless steel, particularly in the utensils and kitchenware sector, to protect the interests of consumers."
The addition of new grades by the BIS is in response to evolving demand, technological changes, shifting consumer preferences, and ensuring that standards stay truly relevant to market requirements. True to its commitment towards quality and public interest, Jindal Stainless will continue to support such initiatives for bringing in a zero defect, zero effect regime within the country.
About Jindal Stainless
India's leading stainless steel manufacturer, Jindal Stainless, has an annual turnover of INR 35,700 crore (US $4.30 billion) in FY23, and an annual melt capacity of 3 million tonnes. It has two stainless steel manufacturing facilities in India, in the states of Odisha and Haryana, and an overseas unit in Indonesia — this unit serves the markets of South-East Asia and nearby regions. Jindal Stainless has a worldwide network in 15 countries and one service center in Spain. In India, there are 10 sales offices and six service centers. The Company's product range includes stainless steel slabs, blooms, coils, plates, sheets, precision strips, blade steel, and coin blanks.
Integrated operations have given Jindal Stainless the edge in cost competitiveness and operational efficiency, making it one of the world's top five stainless steel players (ex-China). Founded in 1970, Jindal Stainless continues to be inspired by a vision for innovation and enriching lives and is committed to social responsibility. The Company boasts of an excellent workforce, value-driven business operations, customer centricity and the best safety practices in the industry.
Jindal Stainless remains committed to a greener, sustainable future, fuelled by environmental responsibility. The company manufactures stainless steel using scrap in an electric arc furnace, the least greenhouse gas emission route since it enables 100% recyclability with no reduction in quality, thereby achieving a circular economy. The company aims to reduce carbon emission intensity by 50% until FY 2035 (from FY 2022 baseline levels of 1.91 tonnes CO2/tonnes of crude steel) and achieve Net Zero by 2050.