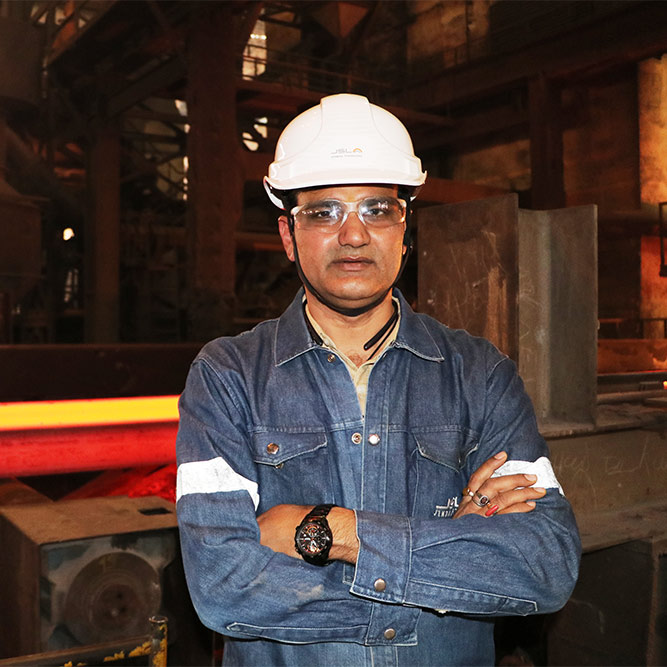 "When life throws you a curveball,
get on the front-foot and swing!"
A cricket lover, our protagonist for this month swears by this philosophy. From Hisar to Jajpur, and from the Scrap Yard to SMS, the one thing he always carried with him is relentless zeal to learn and improve. It's no surprise that he now lends his services to Total Operations Management.
Tell us about your life before Jindal Stainless.
I hail from the Aligarh district in Uttar Pradesh, from a joint family, that is active in trade and agriculture. I graduated with a B.Sc. in 1996 and then started preparing for Defence Services. I chanced upon an advertisement from Jindal Stainless and somehow decided to apply. After the interview, I visited the factory and realized that this is where I would like to work. That's how my journey with Jindal Stainless began in Hisar in 1997.
How has the Jindal Stainless journey been for you?
I started with the SMS Furnace in Hisar. After a couple of months, I moved to the scrap yard and learned a lot. One day, my supervisor, Mr Kishore Gurbaxani, (who is still my boss in Jajpur!), asked me to work in the AOD section. I don't know what he saw in me, but I made the best of this opportunity. After completing my daily tasks, I would work at the AOD until late at night daily. In AOD, I started as an Operator, then as a Melter, then a Shift Manager. Eventually, in 2007, I became the Section In-charge at AOD, LRF and Planning.
I was then asked to reduce the silicon rate. In two months, after testing and experimentation with the help of my team, I reduced the silicon rate from 30kg/tonne to 24kg/tone, saving about 3 INR crores per month at that time. I was associated with SMS in Hisar until 2013. After spending a couple of years with another company, I joined Jindal Stainless, Jajpur in 2015 as AGM, SMS. My journey contains several milestones, like increasing productivity from 5 heats per day to 26 heats per day at Hisar, and from 12-13 heats per day to 23 heats per day at Jajpur; increasing Chrome & Nickel recoveries at SMS; and reducing flux rate at SMS by following the Waste to Wealth initiative. I also initiated several practices related to safety, like appointing Field Safety Officers, on-site emergency preparedness and mock exercises, complete PPEs including 100% eye protection, and quarterly home safety meetings, etc. My journey would have been incomplete without support from the people I have worked with, and I have immense gratitude for each one of them.
Firstly, at the beginning of my tenure at AOD in Hisar, under the guidance of Mr Kishore Gurbaxani, I was given a task to produce 409L grade with extra-low carbon content for the first time. This achievement invigorated me. Another memorable experience was that I led a Lean Quality Circle (LQC) project for reducing flux consumption. The project won several regional and national awards within the LQC and helped the company by way of productivity and quality improvements. Working on that project and the subsequent appreciation motivates me to push myself harder till date. The most recent experience in the list is being a part of the team that led to the highest production of 95KT at SMS through process excellence and optimisation in January 2021.
Share some memorable experiences from your journey.
What do you like to do in your spare time?
I enjoy both playing and watching cricket. I read a lot of books, practice yoga daily, and watch movies in the action, thriller, and comedy genres. My favorite book is 'Stop Worrying & Start Living'. I've been married since 2002 and I love spending time with my wife and our daughter.
What is your message to Jindal Stainless family?
From my personal experience, I can say that alongside diligence, dedication and faith in oneself, emotional intelligence helps a lot in one's career. Personal and professional bonds with colleagues help improve both productivity and satisfaction.
"Mukesh embodies our customer-centric philosophy and delivers extraordinary results. Like a true achiever, he is very disciplined and creative in his approach. He continues to impress us with his warmth, wisdom, and kindness."
Head, SMS, Mr Kishore Gurbaxani