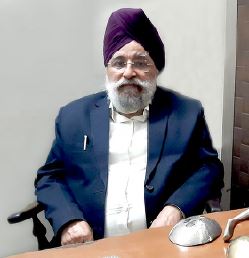 From fixing cycles as a school-going teenager, to becoming a self-taught designer and fabricator, meet Mr Baldev Singh of Onkar Industries. A man of untiring zeal who is carving out passion from his profession every day, and is designing breathtaking sculptures in stainless steel Get to know his story as Mr Singh shares his journey with Stainless Post.
Tell Us About Your Childhood. What Sculpted Out The Sculptor In You?
I belong to Delhi and come from not a well off family.. My father had a specialized skill in wood-work and for his living he used to run a cycle repair shop. As a child, I used to attend school in the morning and help my father during the night. That's how I learnt and grew passionate towards the skill of sculpting.Around 1972, when I was in first year of college,our business focus was on the furniture market and specialised in wood work. Having aligned to crafts, we catered to niche furniture demands, including designer wooden air coolers, beds, sofas, and sculptures, with order coming in majorly from foreign nationals. Around 1980, we delved into iron fabrication and specialised in wrought iron handling. During this time, we also ventured into fabricating signage boards for Delhi Development Authority (DDA). We also served to the overseas market as wrought iron was a cheap alternative at the time. We continued this business for 10-12 years until we finally came across stainless steel in 2001.
Why Did You Choose Stainless Steel As Your Raw Material? What Were The Challenges You Faced?
The thing that drew me most to stainless steel was its simple, yet enigmatic aesthetic beauty. As a non-corrosive and long-lasting metal, we effectively used it to develop designer items for hotel industry, innovative flower pots and stall designs for exhibitions, and larger than life sculptures. During 1989, few prominent designers got in touch with me like Vibhor Sogani, Alex Davis, Vishal Kedhar, Deep Behl,etc., who allowed me to innovative designs capable of being carved out in stainless steel. Another major reason was stainless steel's versatile nature. There is a grade for every use. While grade 202 allowed stiff and hard applications, grades 304 and 316 brought malleability and flexibility to our designs too.
However appealing, fabrication in stainless steel brought its own challenges. Earlier, we lacked sufficient equipment and used to outsource welding and buffing for the metal. Gradually, we learnt more about the metal and upped our in-house fabrication skills. Since, we had no experience in handling stainless steel prior to this, we were persistent in achieving results desired by customers. Another major challenge was the lack of laser technology at the time. To counter this, we evolved our wood-work machinery to be used for stainless steel fabrication. We even employed manual labour in place of laser cutting to achieve equally astounding detailing. We have now mastered everything about stainless steel fabrication.
What Are Some Of The Prominent Sculptures Fabricated By You?
The Jewel Peacock installation in the premises of Ministry of External Affairs, Government of India in New Delhi is one of our cherished works. It is a contemporary art piece with an Indian identity and represents the rich cultural heritage of our country. Our other masterpiece is the one we delivered during 2010 Common Wealth Games in India, we designed a sculpture at the Chhatrasal Stadium in Delhi. Apart from these, we have installed sculptures(name) at Tyagraj Stadium in Delhi, Khalsa Heritage Memorial Complex, Anandpur Sahib in Punjab, and the Radisson Blu Plaza Delhi Airport among other prominent locations. We also developed some designs for Jindal Stainless.
Tell Us About The Work Culture In Your Line Of Profession. How Do You Ensure Sustainability?
Stainless steel fabrication is essentially a niche job, and not many are equipped for it. As of today, our workforce has nearly 20 experienced fabricators, majority of which have been associated with us for over 20 years. We have invested in each of them by providing them with hands-on training and on-floor supervision. I emphasize on attention to detail and expect all my fabricators to ensure consistency in designs. This art requires patience, years of training, and a desire to create something new always. Luckily, stainless steel is just the right material for the job.
We majorly use stainless steel grades 202, 304, and 316, and ensure minimal wastage by using and reusing the metal sheets. Moreover, since stainless steel is a long-lasting metal, it doesn't require regular maintenance. This motivates us to create more stainless steel designs that not just personify nature, but also preserve it.
Who Is Your Role Model? What Is The Best Lesson You Received From Them?
My father has motivated and supported me at every step of my life. He has been an incredible teacher to whom I owe all my creative instincts. He was talented and always devoted to his work. One thing that I particularly like about him is his confidence. Even after being an illiterate, he never shied away from interacting with tourists in English and trying to sell our products to them. Interestingly he used to often succeed too!