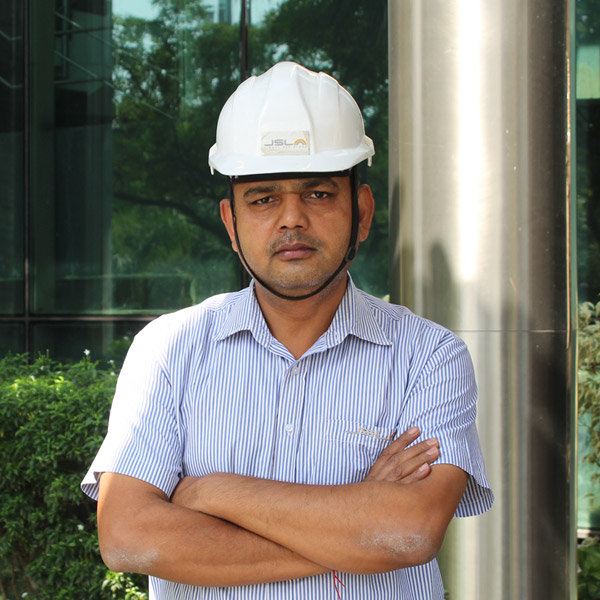 This time, we are celebrating the Stainless Spirit of Mr Pankag Garg. His story is a shining example that with dedication, no mountain is too high to climb. Having spent over two decades at Jindal Stainless, he terms being appointed as the CTL (Cut to Length) Line In-charge as the turning point in his career. What was he doing in Iber Jindal, Spain in 2016? Read the full article to find out!
Tell us about your life before Jindal Stainless.
I can say that Haryana is both my 'Janmabhoomi' and 'karmabhoomi'. I belong to Karnal. After completing me schooling, I pursued a Diploma from Mechanical trait. Post that in 1998, I started working in a company in Sonipat. I worked there until October 1999. After a month's break, I joined Jindal Stainless (Hisar) Limited as a DET (Diploma Engineering Trainee) in December. Since then, I am a part of this big Stainless family. I also upgraded my qualifications by enrolling in BS (Bachelors in Science and Technology) from BITS Pilani from 2008 to 2011 via distance education.
How has the journey at Jindal Stainless been for you?
In a nutshell, my journey has been full of learning and evolving by overcoming challenges. My journey here started with working at the Bright Annealing Line (vertical). Then, I was transferred to the AP4 (CRAP) Line, where I was working as the Shift In-charge. The turning point of my career came when I was given the independent charge of the CTL (Cut to Length) Line. It felt a rebirth at the CTL Line and I can proudly say that the CTL line here is the best in Hisar. The credit for this goes to the hard work put in by the team members and the support provided by the management.
With time, I learnt a lot and perfected my skills working at CTL. Whenever there was any problem in CTL at our service centres, the company would send me from here to solve it and I was fortunate enough to solve the problem every time. I never failed where ever I was sent. After that, I was sent to the Finishing Line and last year, I was sent back to CTL. Two months back, I was given responsibility to look after entire the finishing operation and with the help of a motivated team, we broke the all-time record in finishing in October at 24,292MT and even surpassed that in November at 25,078MT with same manpower and resources. This is almost like a dream come true!
Which is your most memorable moment at Jindal Stainless?
In 2016, I got an opportunity to go to one of our subsidiaries, Iber Jindal, Spain to solve a complaint related to CTL. That was related to some major issue and around 65 lakh rupees were at stake. This complaint was discussed at MD's level and then, I was selected to go there and solve that problem. This was the chance of lifetime for me! It was my first foreign visit and I went there alone, stayed for six days and completed the assigned work successfully.
I would say that the most rewarding thing which I've earned here is the faith of the management in me, which always inspires me and pushes me to give my best performance every time. A similar thing happened last year when I was sent to Slitting 5 line in CRD 3 where we were not processing 0.5mm and below material. So, I was given a chance to do that. I took this as a challenge and now even 0.15mm material is being processed in our plant. Earlier, these materials were sent to our Gurgaon service centre for being processed. By doing this at our location itself, we also achieved cost saving. We are crossing every challenge with the support of the management and a highly motivated team. By developing this in-house facility, we broke the myth that material below 0.5mm can't be processed here. Today we are taking the maximum productivity from that line!
What do you like to do in your spare time?
On weekends, my favourite time is when I am with my family. My son and wife are my family. To spend quality time with them, taking them out for dinner or some outing is what I prefer to do. I think it is the best way to spend weekend.
What is your message for Jindal Stainless family?
Currently, I am working as a Senior Manager. So, from my level I can say that with teamwork and dedication, every goal is achievable, be it in your professional or personal life. Focus is also an important aspect of this. So, it is very important for a person to stay focused. With these three qualities, every target is achievable.